Q&A – Instructor Tim Albaugh – Screenwriting
Q&A – Instructor Tim Albaugh – Screenwriting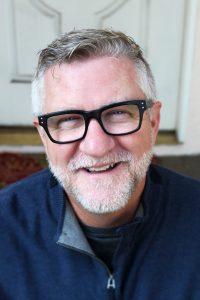 Meet UCLA Screenwriting Lecturer Tim Albaugh.
In this issue's Q&A Tim discusses the state of the industry, the five most important screenplay elements, securing representation, and more.
THE FILM INDUSTRY IS CONSTANTLY CHANGING.  WHAT IS THE CURRENT STATE OF THE FILM INDUSTRY, AND HOW CAN SCREENWRITERS BREAK IN?
Even though the state of the industry is constantly changing, one thing remains the same:  good material makes waves.  Write a great script; something original and fresh.  I always tell my students to write the movie only they can write.  The days of the huge spec script sale are gone, but writers can't lose sight of the fact that their scripts are pieces of their resumes; and a good script will get you noticed.  It may never get made, but it will get you work.  Everyone talks about how owning an IP (intellectual property) gets you into the game.  Sure, the studios all tend to be adapting comic books into huge films, but you aren't going to break into the business writing a movie like that.  There are already tons of working writers out there who do it well, and get paid very well to do it.  Write that personal script.  One that shows you can tell a story well.  Opportunity will follow.
THERE IS A LOT OF INFORMATION ON SCREENWRITING AVAILABLE IN BOOKS AND ON THE INTERNET.  WHAT ARE THE BENEFITS OF STUDYING SCREENWRITING AT UCLA?
Yes, it seems every day there is a new book or blog about writing that promises to pass along the secret to success.  But, it's one thing to read about it; it's another thing to actually do it.  In our program, you are forced to write.  Every day.  Whether you want to or not.  And you are held accountable for the work.  At the end of your first year in our program you will have written two feature screenplays.  That's a lot of work.
Besides accountability, another benefit is the relationships you will build.  Hollywood is a town built on relationships.  It's nice to have a great script, but it's worthless if you can't get anybody to read it.  In our program you will not only forge relationships with your instructors (who are working writer/producers), but you will forge relationships with the writers, directors, producers and studio executives of tomorrow:  your classmates.
WHAT ARE THE FIVE MOST IMPORTANT ELEMENTS OF AN ORIGINAL SCREENPLAY?
Conflict.  Conflict.  Conflict.  Conflict.  Conflict.
I digress.  Besides conflict (both external and internal) you need a protagonist who can sustain the film and drive the narrative.  Someone who is relatable to an audience.  Someone who is flawed.  And their flaw needs to create the narrative of the film.  For example, in "Finding Nemo" Marlin is overprotective to a fault.  We understand why:  his whole family was eaten.  Except for Nemo.  Nemo, on the other hand, is inquisitive and a tad rebellious.  Why?  Because his father is overprotective.  And from those elements comes the plot.
A strong premise is important, too.  It's the argument you are making about the human condition with your script.  Some may call it theme.  It's the whole point of your script.  But, it needs to come organically from the characters' pursuit of a goal.  You don't want the tail to wag the dog.  By pursuing what she wants (plot), a character comes to discover what she needs (premise/theme).  Not every character will arc, but every story should have a premise.
A clear, tangible goal is an important element of a screenplay, as well.  It gives a script focus.  It doesn't have to be complicated.  The goal in "Finding Nemo" is, uh, to find Nemo.  In "Tangerine" it's to find the pimp.  Simple is the key.  Then that gives you the room to explore character.
Another important element of a screenplay is subplots.  Too many times I find screenplays flat and one dimensional and that's because they lack subplots.  Subplots serve to complicate the protagonist's goal, but they also carry the larger thematic thread, or premise.  For example, in
"The Sixth Sense" the subplots not only complicate Malcolm's attempts to "cure" Cole, but they also share the same thematic thread revolving around lack of communication.  It is only when the characters in the film communicate that they succeed.
These five elements are just the foundation of a good script.  There are other elements such as dialogue and action that also play a role, but all the extras fall on deaf ears without a strong grounding in those five core elements.
THERE ARE A MILLION CONTESTS OUT THERE.  ARE THEY WORTH ENTERING?
Yes.  But you need to do your homework.  Focus on the contests with strong ties to The Industry.  The "Written in South Dakota" screenplay contest probably won't do you any good in terms of industry access, but winning it may stroke your ego.  But, the goal of a contest is to get you and your writing noticed.  Industry insiders pay attention to contests like The Nicholl Fellowship; The Disney Fellowship; Austin Film Festival's competition.  Major competitions with direct access to The Industry. And, of course, The UCLA Professional Program contest is important as well.  The school's reputation catapults winners of our contest to the "must read" pile.  And, we publicize the winners in Variety and The Hollywood Reporter and on Deadline Hollywood.
HOW DO YOU GET REPRESENTATION?
By winning a contest!  Well, it's not the only way, but it helps. But, again, we don't want the tail to wag the dog or to put the proverbial cart before the horse.  You get representation by writing an original screenplay that showcases your unique voice.  Not just once, but over and over again.  Then you parlay the relationships you've made at UCLA to get that script read.  It all fits together nicely.  Your instructors or classmates will have connections.  When they see something good, they will pass it along.  I get requests from agents and managers all the time asking me who the next hot person is coming out of my UCLA classes.  And, of course, I refer the writers I feel have to chops and material to fill the bill.  Don't forget; agents only get 10% of your earnings because they only do ten percent of the work.  You need to be proactive in the development of your career.  That means not only working hard to be the best writer you can be, but also working hard to forge relationships that will get you read.  At UCLA, we help you do both.
Taught by top industry experts and leaders working in the entertainment industry. Learn more about the Professional Programs at the UCLA School of Theater, Film and Television.